Wildlife Removal & Control in Burlington
Wildlife is fun to watch, but most people do not want racoons, skunks, fox and snakes in their yard, garden or under the house. Worse, what do you do if a wild animal dies in your lawn or under your house?
The most common complaints: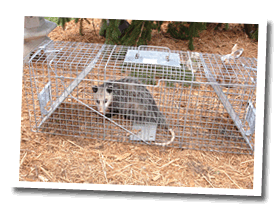 • Racoons in the garbage or garage
• Skunk in the back yard
• Snake under the house
• Dead animal in the lawn or under the house
• Removal: racoon, skunk, snakes, fox, possum

When you have wildlife too close to your house and family, get a professional - Call
Animals Be Gone - 919-245-3300
. Wildlife removal and control is a job for wildlife experts. We will catch and remove any wildlife from your property and we will do it using humane methods - We try our best to never kill any wildlife.
Wildlife Removal in Burlington
It is not uncommon for local wildlife to carry disease, especially rabies. Racoons are probably the most likely carriers of rabies of the animals we tend to see in our domestic environments. We typically use humane traps to get rid of racoon, skunk, possum and fox. We catch snakes with a snake tong or with our hands (we are good). We will carry the captured animal into a private 200 acre wooded countryside and safely release it. Wildlife should always be respected - we remove it from your residential zone and place these animals where they belong - in a natural wooded area.
Dead Animal Removal
Call
Animals Be Gone
when you have a dead animal in your domestic space. If you do not have significant wooded area near your home, you need to have any dead animal removed.
Snakes, Racoons, Skunks, Possum
Wildlife removal is not easy - you do NOT want a wild animal to bite you! We are certified by the State of North Carolina for Wildlife Damage Control. We understand and respect wildlife and strive to resolve all situations with safe and humane practices.
We can help you with Animal and Wildlife Removal and Control:
• Racoons in the garbage or garage
• Skunk in the back yard
• Snake under the house
• Dead animal in the lawn or under the house
• Removal: racoon, skunk, snakes, fox, deer, possum